# Create your TAWNY account
To start using the TAWNY Platform, you need to create your TAWNY account. In general, account setup is easy and similar to most other online services you might know. However, if you have any difficulties with the account creation process, in the following all the steps are described in detail.
# Sign up for the TAWNY Platform
In order to create your account for the TAWNY Platform, you have to register at https://platform.tawny.ai (opens new window). Click "Create account" on the homepage: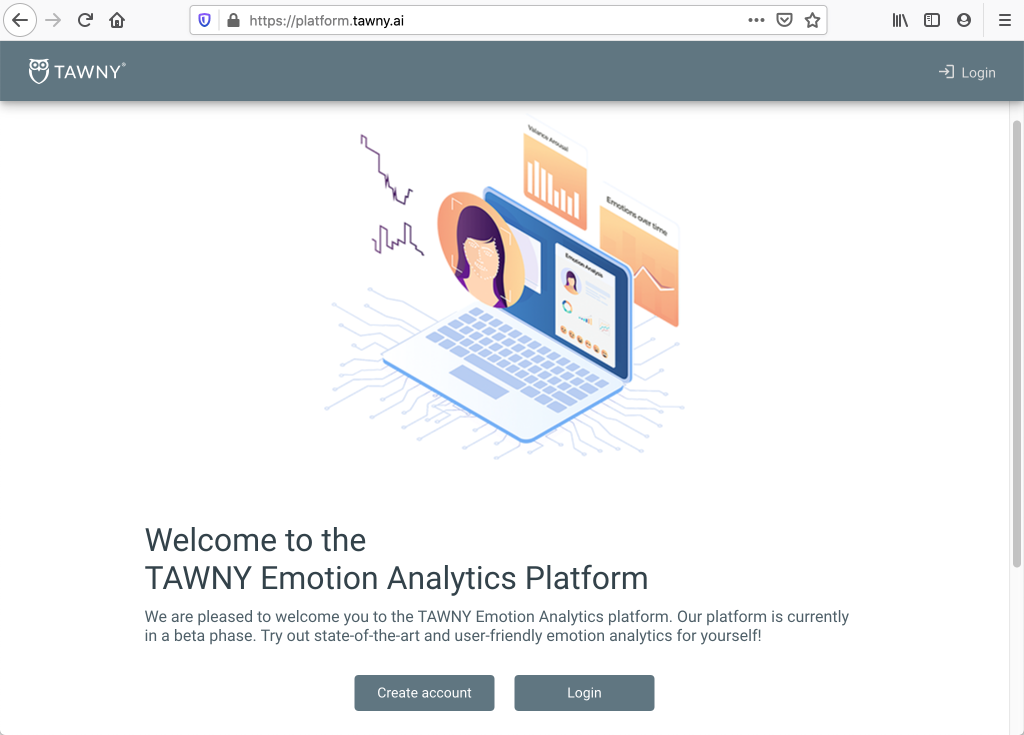 Please then fill out the registration form: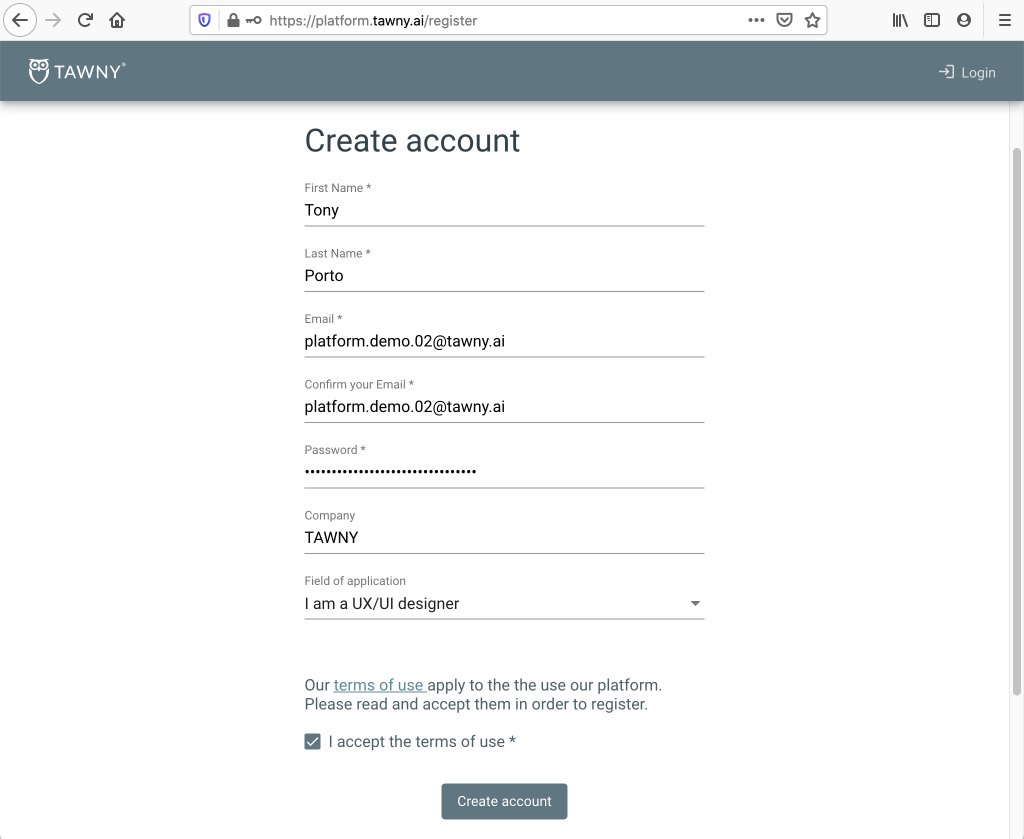 After you signed up, you will receive an email asking you to confirm your email address. Please click the link in that email.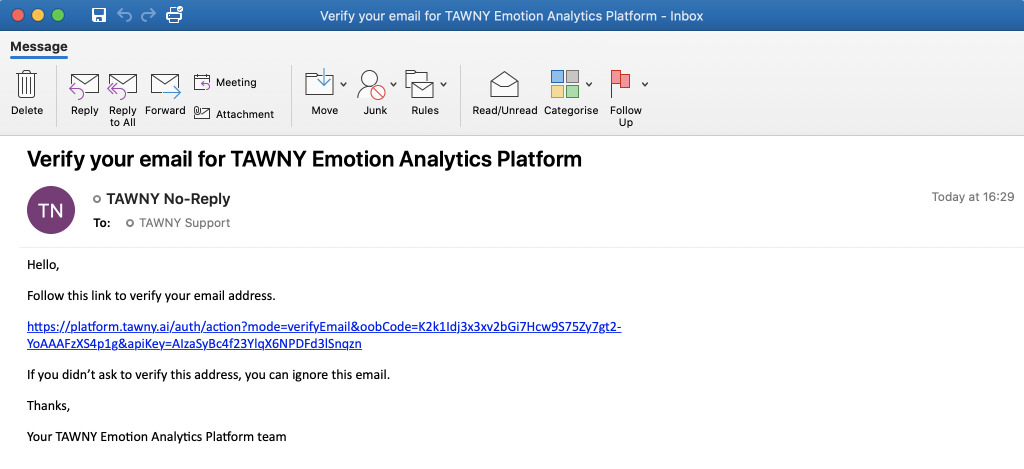 Once your email address has been confirmed by yourself, your account is ready and you are able to log in to the platform via https://platform.tawny.ai/login (opens new window).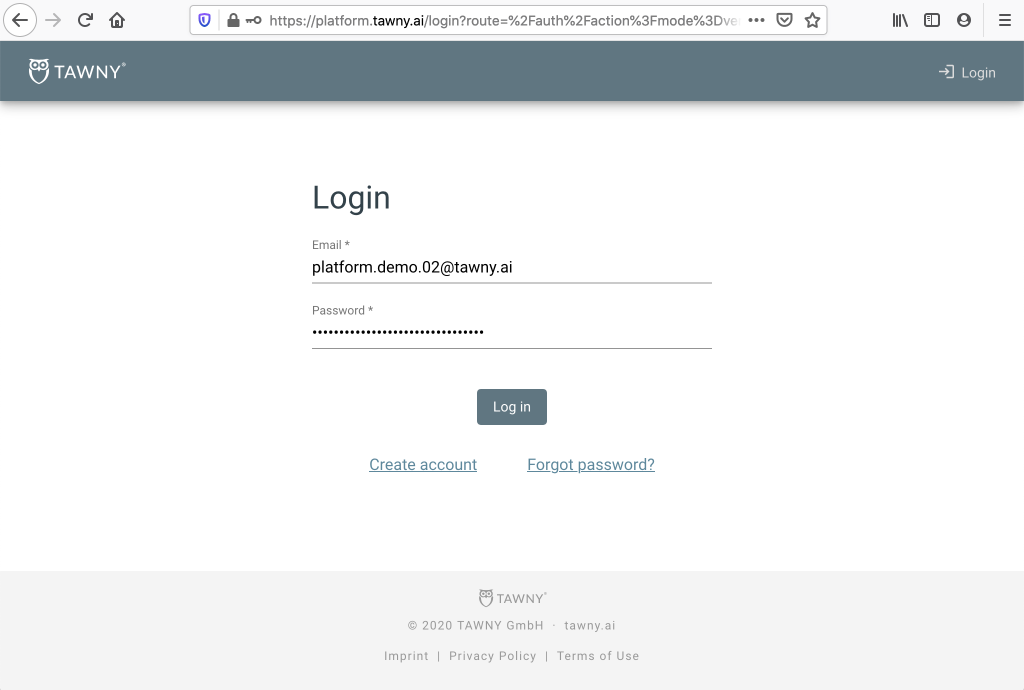 After logging in, you see the dashboard of the TAWNY Emotion Analytics platform, which gives some overview of your account and also offers to register for a guided onboarding tour. If you have any questions or simply would like to have an introduction to the platform, do not hesitate to click the "Get your onboarding tour" button. It's free and our platform experts would be very happy to get you started.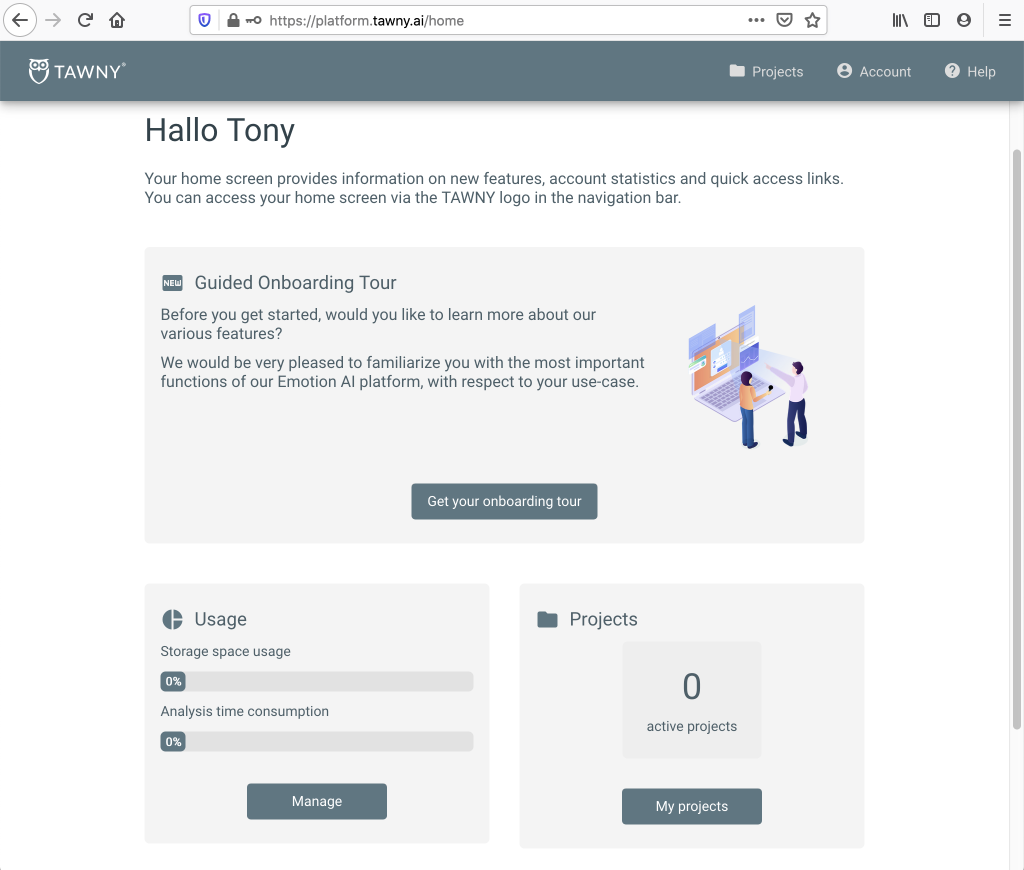 # Subscribe to the TAWNY Platform Professional plan
With your TAWNY account, you are able to access existing projects you created in the past or have been invited to as collaborator. To create new projects or upload videos to your existing projects, you need an active TAWNY Professional subscription.
TIP
Only the owner of a project needs an active TAWNY subscription in order to allow uploading new videos to the project. If you are invited as a collaborator to a project, you yourself do not need an active subscription.
When you do not have any existing projects and you also have not been invited to any other projects, the "Projects" view will already offer you to subscribe to the TAWNY Professional plan: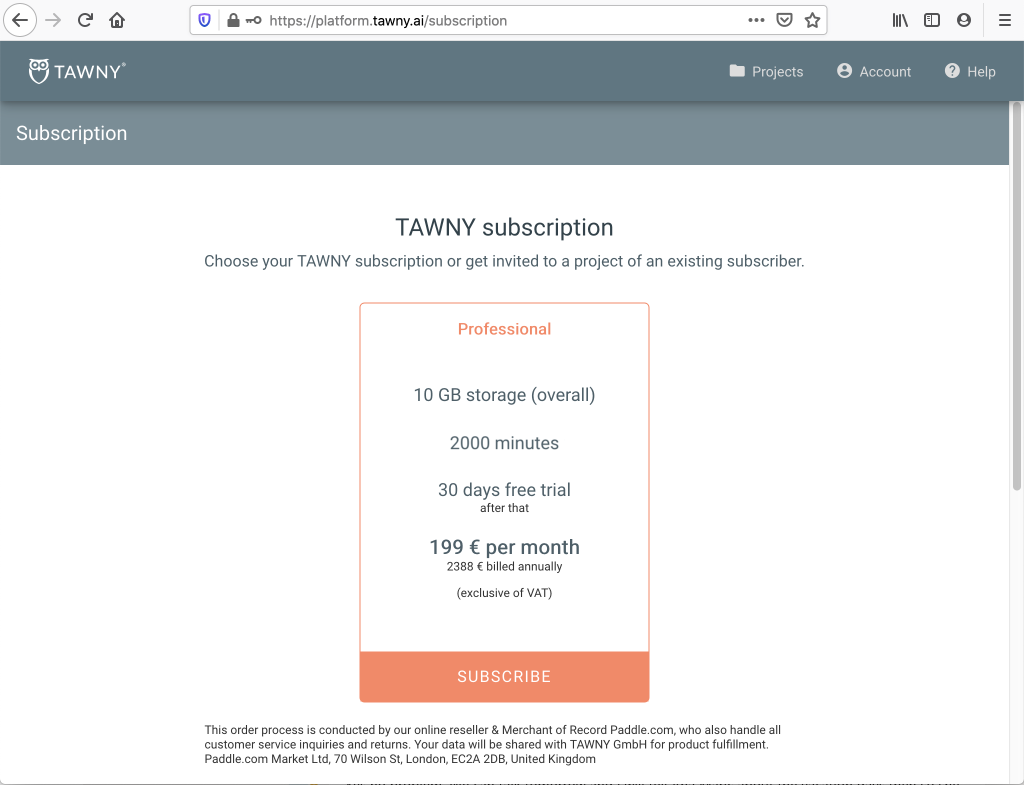 (Otherwise, please head over to the "Account" section where you can find the billing and subscription details at the bottom.)
In order to subscribe to the TAWNY Platform Professional plan, please start the order process by clicking "Subscribe". This order process is conducted by our online reseller & Merchant of Record Paddle.com (opens new window), that also handles all customer service inquiries and returns. Your bank / credit card statement will contain the text PADDLE.NET* TAWNY. This is important to remember so that you know that the billing originating from Paddle.com (opens new window) is legitimate.
Please check the details on the above mentioned pages to find out the exact price of the subscription. Also please note that plans are billed yearly.
TIP
In general, we offer a free trial period when you subscribe to a Professional plan. The length of the free trial is stated in the subscription details on the platform. When you cancel your subscription during the free trial period, you will not be billed, so no costs will occur. You will also get notified by email before the first (and any subsequent) billing, in case you forgot to cancel.
The checkout form will first ask for your location in order to calculate local taxes and provide you with a correct invoice afterwards: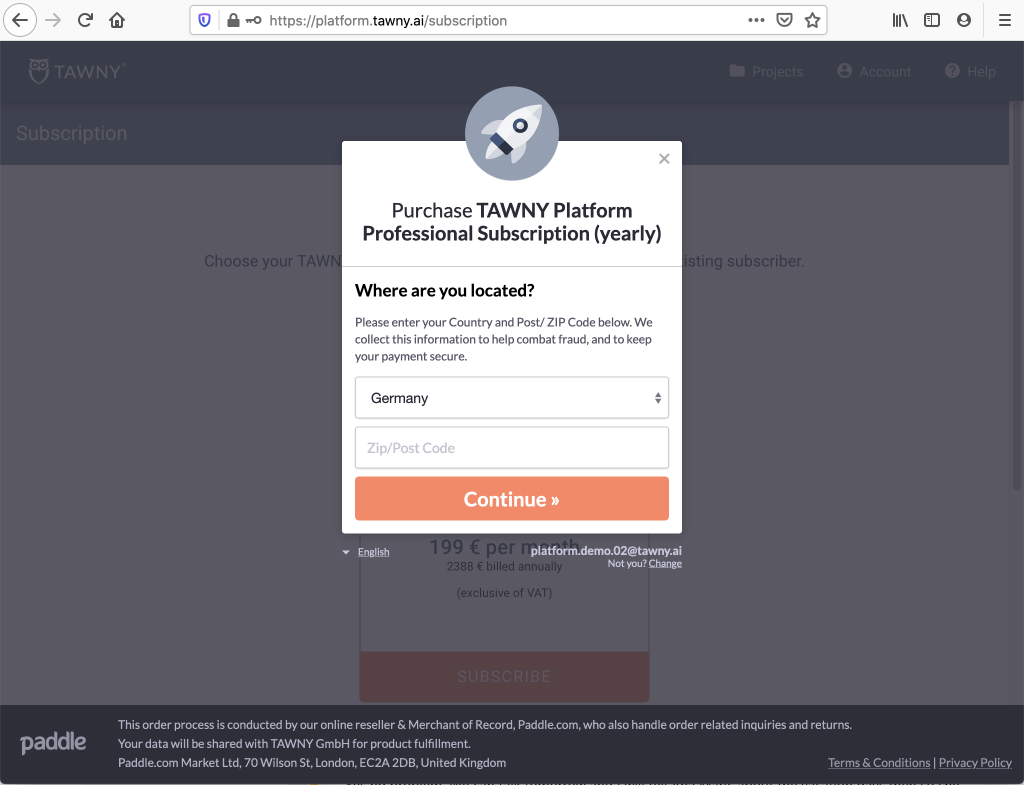 After that, you will see the amount you are going to be billed right away – most of the time, this will be €0.00 because of a free trial period – and the amount you will be billed after that (either monthly or yearly). Please check that the given details are what you expected. Depending on your location, VAT might have been added to the originally stated price, so please also make sure to add your VAT-ID in this step, so that it is correctly stated in the invoice you'll receive.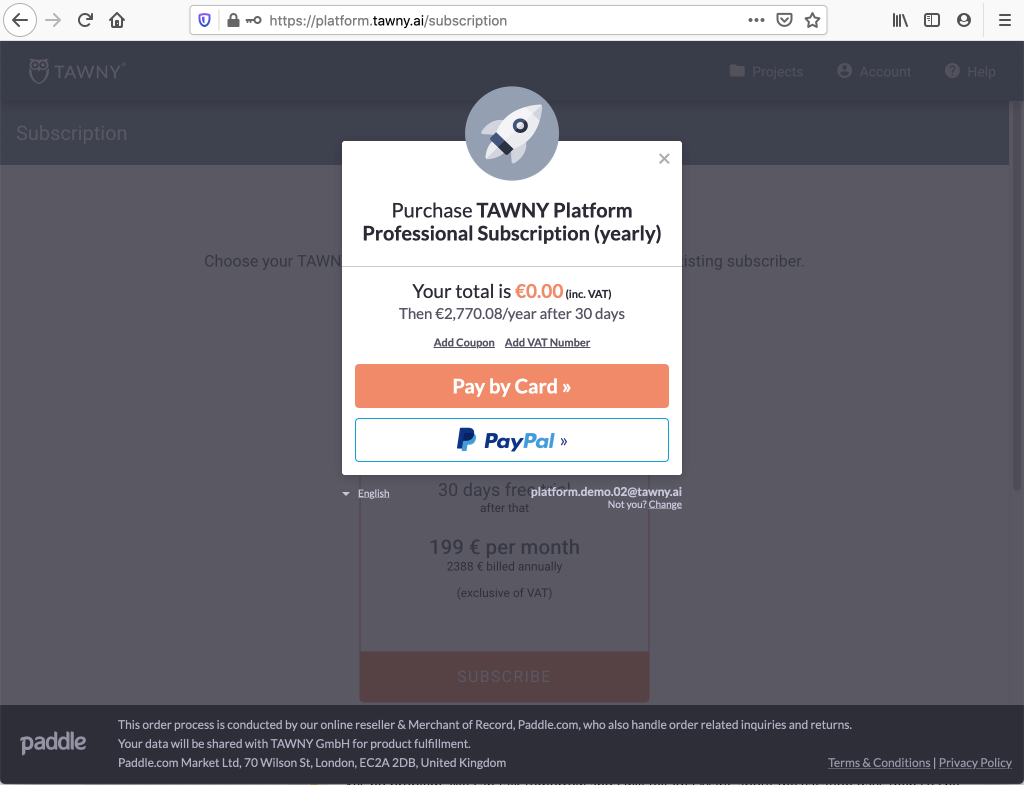 Depeding on your location, you will be offered different means for payment like credit card or PayPal. Simply choose your preference and follow the steps for that payment method.
When you've successfully finished the checkout process, the checkout dialog will disappear and you should see a small notification on the top of the page:
It might take a few minutes until the new subscription is reflected in your account settings, so please do not repeat the order process in the meantime. When the backend process has finished, you will see that your new subscription now is selected:
You can always find your subscription details in the "Account" section: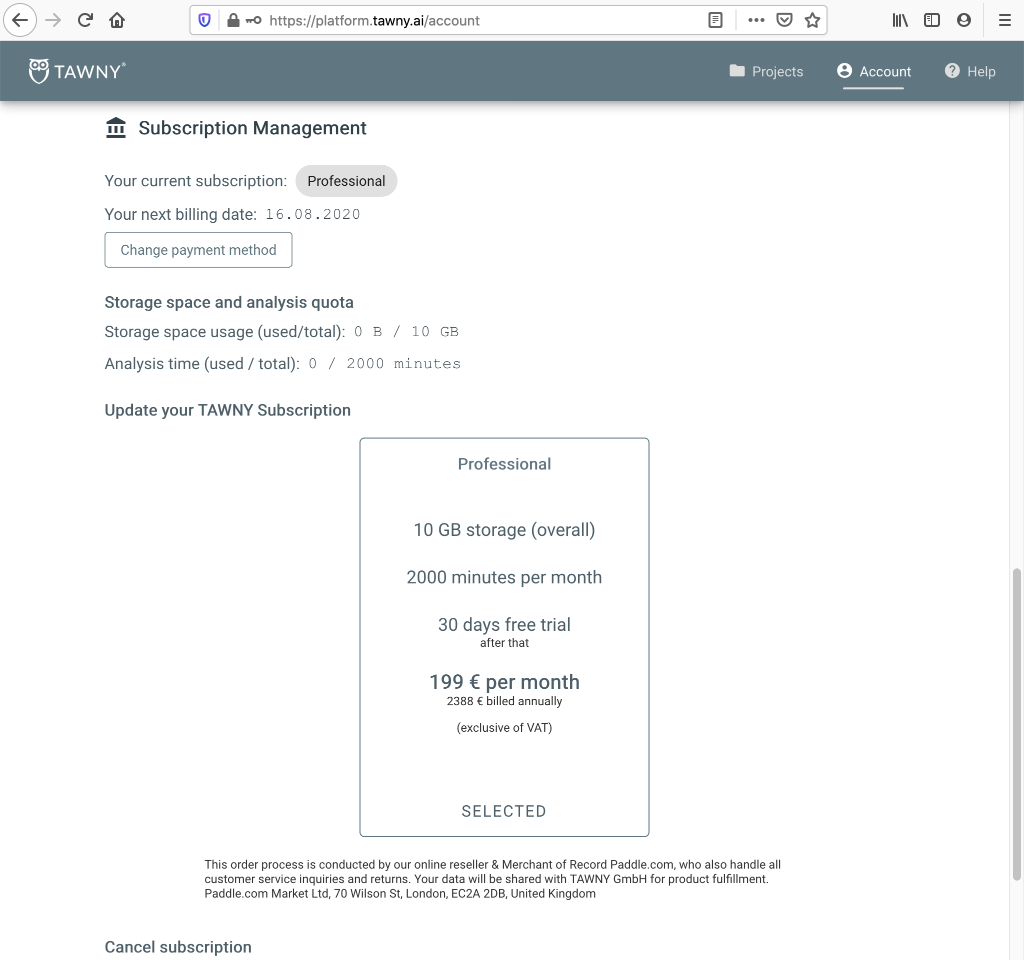 Besides the details of the current subscription, there are two buttons to either update your billing information (e.g., if you want to use another credit card) or to cancel your subscription. You can cancel your subscription any time, which means that it will not automatically renew at the next billing date. Even if you cancel the subscription, you will keep all the capabilties of your current subscription plan until the former next billing date is reached (because you already paid for the timespan).
If you head over to the "Projects" section, you'll see that you now can create your first project and start using the TAWNY Emotion Analytics Platform!